Airsoft Guns and Accessories
Airsoft Assault Rifles
Tommy Guns with Drum Magazine, King Arms Colt M4A1, Elite Force M4A1 Carbine, G and G M4A1 Carbine, Thompson M1A1 Sub machine Guns, Kalashnikov AK-47, G and G CM16 Raider-L, G and G CM16 Raider-L GBB, 60th Anniversary AK-47 Tactical, King Arms FN P90, G and G CM18 Mod1, Sig Sauer 556 Full Metal, G and G GC7A1, G and G SA80 L85A1, G and G GR25 SPR Sniper, and more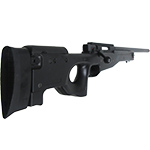 Airsoft Sniper Rifles and Shotguns
Mossberg Airsoft Pump Action, Firepower MS Multishot Airsoft Gun, FN SPR A5M Bolt Action Airsoft Sniper, King Arms Blaser R93 LRS1 Bolt Action Sniper Rifle, FN SPR A5M Sniper Kit, G and G Kar98 Bold Action Gas Powered Rifle, G and G GR25 SPR Airsoft Sniper Rifle, and more

Airsoft Pistols
Full metal KWA M1911 Mark IV PTP (Professional Training Pistol) semi automatic airsoft pistols with blowback, Colt 1911 airsoft spring powered pistols, Colt MK IV airsoft spring powered pistols, Licensed Beretta M92F pistols, airsoft .44 Magnum pistols, Colt Delta Elite airsoft pistols, Swiss Arms Sig Sauer SP2022 spring powered pistols, M and P 40 Smith and Wesson airsoft semi-automatic pistols, Replica Taurus 24/7 Airsoft CO2 semi-automatic pistols, SW40F Smith and Wesson airsoft pistols with blowback, G and G Xtreme 45 airsoft pistol, Ceska Zbrojovka P-07 Airsoft Duty Pistols, Taurus PT92 semi automatic airsoft pistol, Blackwater 1911 airsoft pistol, Dan Wesson Airsoft revolver, ASG Bersa airsoft pistol, KWA m9 PTP airsoft pistol, CO2 powered airsoft pistols and more!
Airsoft Gift Sets
Looking for a birthday gift idea for a new airsoft player? Take a look at our sets!
Airsoft Batteries and Chargers
8.4 and 9.6 volt small, large and nunchuck-style rechargeable airsoft batteries and airsoft battery chargers
Airsoft BBs
G&G biodegradable 0.20, 0.25 and 0.28 gram 6MM Airsoft BBs, Valken .32 and .36 gram biodegradable sniper airsoft BBs and more!
Airsoft Accessories
CO2 Canisters, speed loaders, t-shirts, leg holsters, auto targets, knee pads, propane adapters, magazines, tactical flashlights, scopes, gun cases and more
Airsoft Masks and Goggles
Valken Tactical fog resistant airsoft goggles and steel mesh face masks

Airsoft Magazines
Magazines for M4, M16, AK, MP5, CA249, Thompson M1A1, and Tommy drum magazine series automatic airsoft guns. Airsoft pistol magazines for 1911, PT 92, GS-801, and M9 handguns