COMPUTER EQUIPMENT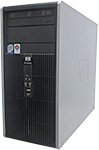 Computers - Off-Lease
Affordable commercial grade off-lease computers from Dell, HP, and Lenovo !

We also carry off-lease flat screen LCD monitors, laptops, and tablets.

Computer Networking Equipment
Discount surplus prices on what you need to connect to the Internet or network to other computers!

RJ45 Cables, network cards, wireless network adapters, wired and wireless routers, WiFi antennas, Ethernet switches, crimping tools, DSL phone filters, and more!
Computer Cables & Tools
Network cables, printer cables, usb cables, ata cables, firewire cables, floppy drive cables, kvm cables, crimping tools, keystone jacks, couplers, network wall plates and more!
Storage Devices
Seagate and Western Digital hard drives, USB flash drives, and Kingston Micro SD Cards

Computer Mice & Keyboards
Optical USB wheel computer mouse, USB and PS2 keyboards
Cooling Fans
Keep electronic equipment from over-heating!
Amplified Computer Speakers
Logitech computer speakers and headphone amplifiers

Computer Accessories
AT to PS2 keyboard adaptors, USB webcams, DSL phone filters, wireless calculators, universal laptop power adapters, 120 volt AC to USB power adapters
Computer Components
USB 2.0 Port cards, computer cases, computer power supplies