SECURITY PRODUCTS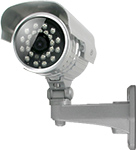 Security Cameras
Protect your property!

We carry a wide selection of cameras for both day and night security!
Security Camera Systems
Multi security camera systems with cabling. Ideal for people who want a complete security system but without having to look at dozens of cameras.
Digital Video Recorders (DVR)
Fully digital quality recording with no tapes to wear out or change
Safes
Safes, Lock Boxes, Cash Drawers, and more

More Security Devices
Video surveillance warning signs, dog repellent spray, bear spray, security jackets
Motion-activated Lights and Alarms
Scare away weirdos with our personal alarms. Protect your ride from thieves and joyriders using our affordable motorcycle alarms. We also have Motion alarms to protect your home, and door alarms to help stop intruders at the door.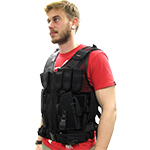 Tactical Vests and Security Belts
Kevlar police vests, level 2 ballistic vest, SWAT Belts, security guard duty belts, gun holsters, paintball vests, tactical dog harnesses, MOLLE pouches, military belts, and more

Handcuffs
ASP and Smith and Wesson chain link handcuffs, hinged handcuffs, nylon cable tie handcuffs
Security Camera Cable Extensions
Cables and adapters designed to extend the range of wired security cameras
Fake Security Cameras
Very realistic looking indoor and outdoor fake security cameras
Locks
Padlocks, motorcycle locks, U and cable/chain bike locks, entrance and deadbolt door locks,

Binoculars
Quality Bushnell compact binoculars, full-sized star gazing Bushnell Astralis series models as well as affordable kids and adults binoculars/monoculars