SURVIVAL SUPPLIES
Storm Survival!
Rainsuits, waders, jump starters, batteries, tie down straps, first aid kits, lanterns, and more!

Survival Rations and Freeze Dried Food
Mountain House freeze dried food #10 cans, freeze dried food packages, and survival rations for survival, backpacking, camping, and more!
Safe Water
LifeStraw portable water filters and LifeStraw Go portable water filter, Coghlan's emergency water filters, expandable water carriers, water treatment, drinking bottle water pumps
Prepper Survival Gear
Essential survival gear to help you survive!
Commodes and Portable Toilets
Commodes and portable self-contained toilets. Don't get caught with no where to go when @#$% hits the fan!

Emergency Chargers
Crank chargers, Smartphone powerbanks, and jump starters to keep your life powered up in emergencies

First Aid and Survival Kits
Personal survival kits in a can, camping survival kits, first aid kits
Car Survival Gear
Jump starters, folding picks/shovels, MREs, tow ropes, emergency light sticks, glass window breaker, emergency kits, emergency blankets, deer whistles, tire inflators, winches, and more
Emergency Communications
Megaphones, survival whistles, air horns, emergency light sticks, 2 way radios, crank radios, Police scanners, NOAA radios, and signal markers

Personal Survival Supplies
Dog Repellent Spray, bear pepper spray, bear bangers and magnesium fire starters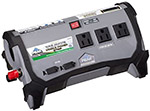 Emergency Power Supplies
Be prepared for blackouts with our lantern batteries, gel cell batteries, power inverter, power banks, jump starters, and more.
Winter Survival Supplies - - Featured on CBC News
Winter hats, folding shovels, thermal space blankets, survival candles, and more