Airsoft Guns and Accessories
Airsoft Assault Rifles
Our store carries the largest selection of airsoft rifles in Southwestern Ontario!
Our selection includes Top brands like ICS, Arcurus, CZ, Heckler and Koch, ASG, KWA, King Arms, Elite Force, Cybergun, SRC, Umarex, and RONI. All rifles have been Canadian custom cleared and ship from our Canadian store.
Our ICS rifle line up includes the ICS CXP MARS DMR S3, Komodo, MARS Carbine, MARS MMS DMR, SIG 551 SWAT, CES A5, CES A4, CES SD5, and G33 Airsoft Rifles.
We carry Arcturus Centaur A Carbine CT03 Assault Rifle, E3 AR Airsoft Rifle with M-LOK, SR16 CQB and AR15 airsoft guns.
Looking for extra realism? Get the feeling of electronic recoil and blowback with the 230 Proline CXP-APE Airsoft Rifle.
Want a King Arms M4, but not sure which barrel length you want? We carry the Ultra Grade II M4A1 TWS M-LOK Airsoft Assault Rifles in Carbine, CQB, and standard barrel lengths.
Want something unique? Our SRC SR-47 RPK Airsoft Assault Rifle combines AK-47 elements with Bipod.
Looking for something historic for doing war reenactments? We carry the ICS WWII M1 Garand Semi-automatic Airsoft Rifle or the M3 "grease gun" submachine gun. These U.S. Army favourites will have the enemy on the run.
Want to connect a Li-Po battery to your airsoft gun? Check out the ICS CXP UK1 R Rear Wired and Airsoft Gun and the Elite Force MCR Airsoft Gun. All come with mosfets inside the rifle to help regulate power.
Want the toughness of a full metal gun with the bullpup advantage? Check out the UK army based ICS L85 A2 AEG Airsoft rifle. Great choice for left handed shooters too!
Like upgrading your airsoft rifle? Our ICS CXP Peleador Carbine SL AEG Airsoft Gun with MOSFET comes with a split gearbox for making modification work easier.
Love rails? We have plenty of RIS guns. More of the sleek lightweight gun type we have rifles with no rails or have keymod so you can attach the rails and accessories you want.
Do you love CQB action and need something compact to clear out forts? Try our Heckler and Koch MP7 Navy and A1 edition Personal Defense Weapon, Arcturus AT-AR03, SRC SR36C Airsoft Rifle (with folding stock), King Arms KA-AG-76 FN P90, or the super short-barrel King Arms M4 TWS Type 3 Ultra Grade Airsoft Assault Rifles.
Want something that looks like it's from the future? Our ASG Steyr Mannlicher AUG A3-MP Airsoft Rifle or CyberGun FN P90 Airsoft Rifle Set, FAMAS, CZ Scorpion EVO 3 A1 Carbine and EVO 3 A1 B.E.T. airsoft submachine guns have your space age needs covered.
Looking for the versatility of a pistol, but with a stock? Try our RONI Glock, P226, and M9/M9A1 pistol to rifle conversion kits that we carry.
Airsoft Sniper Rifles and Shotguns
Large selection of bolt-action airsoft snipers guns from Amoeba, ASG, and Lancer. We currently carry airsoft sniper rifles such as the Amoeba Striker and Striker Scout, McMillan M40A3, Lancer LT-20B M82, ASG AW .308, and the M62.

We recently got in the Matador Annihilator Mod3 and TSG Charger Multi-shot Airsoft Shotguns. Airsoft players love them.
Airsoft Pistols
Full metal KWA M1911 Mark IV PTP (Professional Training Pistol) semi automatic airsoft pistols with blowback, Colt 1911 airsoft spring powered pistols, Colt MK IV airsoft spring powered pistols, Licensed Beretta M92F pistols, airsoft .44 Magnum pistols, KWA M9 PTP airsoft pistols,Colt Delta Elite airsoft pistols, Swiss Arms Sig Sauer SP2022 spring powered pistols, M and P 40 Smith and Wesson airsoft semi-automatic pistols, Replica Taurus 24/7 Airsoft CO2 semi-automatic pistols, SW40F Smith and Wesson airsoft pistols with blowback, G and G Xtreme 45 airsoft pistol, Ceska Zbrojovka P-07 Duty Pistols, Taurus PT92 semi automatic, Dan Wesson revolver, ASG Bersa handgun (this one is great if you have small hands), CO2 powered airsoft pistols and more!

For those that have never tried the sport and want to get a taste of it we welcome them to come down to our Canadian airsoft store and visit our target range. For a nominal fee you can test out the sport. For those that aren't in the Southwestern Ontario area we recommend buying a low cost spring-powered pistol. These inexpensive handguns cost as little as $17.99 Canadian. They aren't field grade, but can at least give you a taste of the sport before paying a couple hundred dollars for a field-grade pistol or rifle. We have a large selection of what is sometimes called clearsoft available for sale. Licensed models from Hecklar and Koch, Walther, Smith & Wesson, Sig Sauer, and more.

Airsoft Gift Sets
Looking for a birthday gift idea for a new airsoft player? Take a look at our sets!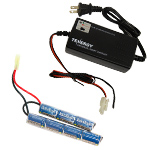 Airsoft Batteries and Chargers
8.4 and 9.6 volt small and large nunchuck-style, brick, and stick traditional NiMH rechargeable airsoft batteries. Looking for a way to reduce the weight of your gun? We also carry 7.4 and 11.1 volt rechargeable Li-Po airsoft batteries. We carry quality brands that you can count on when in the field like Airsoft Logic, AMP Tactical, UBPower, and more. We also carry LiPo and Nickel Metal Hydride airsoft battery chargers for charging up between events. Don't forget that a day at the field is no fun if your battery runs out of juice halfway through the day. Make sure you bring a spare battery to the field so this doesn't happen to you.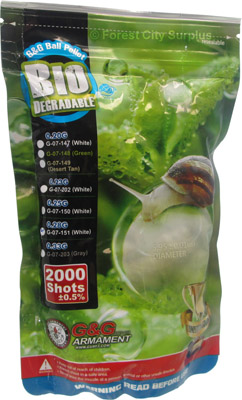 Airsoft BBs
G&G biodegradable 0.20, 0.25 and 0.28 gram 6MM Airsoft BBs, SRC 0.43 gram, 0.38 gram, biodegradable sniper airsoft BBs, Tippmann 0.30 gram biodegradable airsoft BB bottles, Airsoft Logic 0.32 non-biodegradable white BBs and 0.20 gram biodegradable tracer BBs, AMP Tactical match grade and practice grade 0.20 airsoft BBs and more!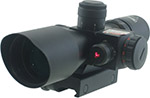 Airsoft Accessories
Airsoft gun scopes and sights, scope shields, bipods, CO2 Canisters, injection and crank speedloaders, t-shirts, leg and shoulder gun holsters, auto targets, knee pads, green gas to propane adapters, tactical flashlights, gun cases, black and green gas, tactical vests, chronographs (speed tester), black flash hiders, mock suppressors, scope rings, replacement springs, spring bolts, camouflage ghillie suits, tactical waist belts, plate carriers, operator tactical vests, and backpacks, magazine pouches, synthetic lubrication kit angled and straight foregrips, tactical clothing (including elbow pads, protective padded gloves, camouflage baseball hats, Shemagh head wraps), radio pouches, and more!
Airsoft Masks and Goggles
Full face paintball masks, airsoft safety goggles, and steel mesh face masks

Airsoft Grenades
Smoke, impact, and distraction grenades by Airsoft Innovations, Enola Gay, and Killhouse. Grenade launchers too!

Smoke grenades can provide covering smoke to disorient attacking forces and improve the chances of your squad to successfully retreat and regroup.

Impact grenades are the type of grenades that most people think of when they think of grenades. These send out a stream of ammunition when activated allowing you to incur multiple hits. These are best used when you see a cluster of enemies in the open or if you are trying to hit targets behind a wall or fortification.

Distraction grenades are designed to distract the enemy with a loud bang. These are useful when you want to try to get the opposing players to look another way while your squad attacks from another angle. These are effective as our animal brains are hard wired to jump to our senses and look at any loud noises in our environment as a natural protection mechanism. While your opponents are distracted your squad can come in from behind and fire on their backsides.

Airsoft Magazines
Magazines for M4, M16, AK, MP5, CA249, Thompson M1A1, and Tommy drum magazine series automatic airsoft guns. Airsoft pistol magazines for 1911, PT 92, GS-801, and M9 handguns.

How many magazines should I have? For airsofters that are using AEGs five to ten mid-cap magazines is considered ideal. As a minimum two high-capacity magazines is recommended. This allows a player to fire until they empty the clip. Once emptied the player can switch to the spare magazine and still stay in the action. During a break in gameplay when hidden behind a barricade one could refill the second magazine to be back to full magazine strength. This though takes you out of the game (as players can't refill and hold your gun at the same time) and requires you to pull out of a bag of BBs and a speedloader. Mid-capacity magazines also have the big advantage that they are quieter. This is because of the spring loaded design it means that the BBs are firmly in place. In a high-capacity magazine the majority of the magazines are stored in a large compartment. As you fire an air gap develops. The noise is similar to that made when shaking a box of Tic Tacs. The quieter an airsorter can be the more of the element of surprise they can have.